Fall Mini Sessions at Missy Timko Photography
September 26, Sewickley [SOLD OUT]
OCTOBER 17, 2-6, FAIRVIEW PARK [ONE spot left at 2 pm!]
NOVEMBER 7, 1-5, WASHINGTON'S LANDING [ONE SPOT LEFT at 3 pm!]
This year will be our 11th year in a row offering our fun & easy fall mini sessions. These are popular with clients who prefer online booking, a shorter shoot time, and an efficient online or in-person ordering appointment.
We offer our mini session clients an abbreviated yet elevated experience, high-quality custom artwork, and beautiful, expressive portraits to hang on your walls and adorn your holiday cards!
Details & Policies
Mini sessions are perfect for 1-5 people—larger groups, please book a regular portrait session with us.
Your $400 non-refundable deposit is due upon booking and will be applied to your order (you will choose your package after you have seen your images). Our smallest package is $650 for three high-resolution portraits.
Mini sessions are non-transferable and non-refundable. If emergency arises, and you are unable to make it to your session, we will do everything we can to help you fill your spot.
Your full-service ordering appointment will be over a live Zoom call or in person at our Mt. Lebanon studio. At this time, you will have the opportunity to select your favorite portraits, design custom artwork, and choose a package. This will be your only opportunity to view and select your images (no online galleries before ordering).
The rain date is exactly one week following your session (same time & place). KEEP THIS EXTRA DATE OPEN ON YOUR CALENDAR JUST IN CASE. Weather policy is here: www.missytimko.com/weather.
PRICING
Pricing for our fall mini sessions is discounted over 20% off our regular retail pricing, and there is no session fee! This is the ONLY discount that we offer the entire year.
PACKAGES
Package 1: 8 high-res image files in both b/w & color, 8 matted prints, $800 product credit (approx. one medium art piece, two small art pieces, or 8 prints), 20% off wall art. $1850 ($2450+ value)
Package 2: 4 high-res image files, 4 matted prints, $400 product credit (approx. one small art piece or 4 prints). $995 ($1400 value)
Package 3: 3 high-res image files. $650 ($750 value)
We will offer larger image bundles of 16 or more images, up to your complete gallery of 25+ edited portraits, at a 20% discount at the time of ordering! Our large image bundles include a FREE gift.
AFTER YOUR BOOKING
Within one week of placing your order, we will send an email to confirm your session, gather information about your family, and assist you with session planning.
One week before your session, we will send directions on where to meet us for your portrait session—the exact location is based on foliage & local events.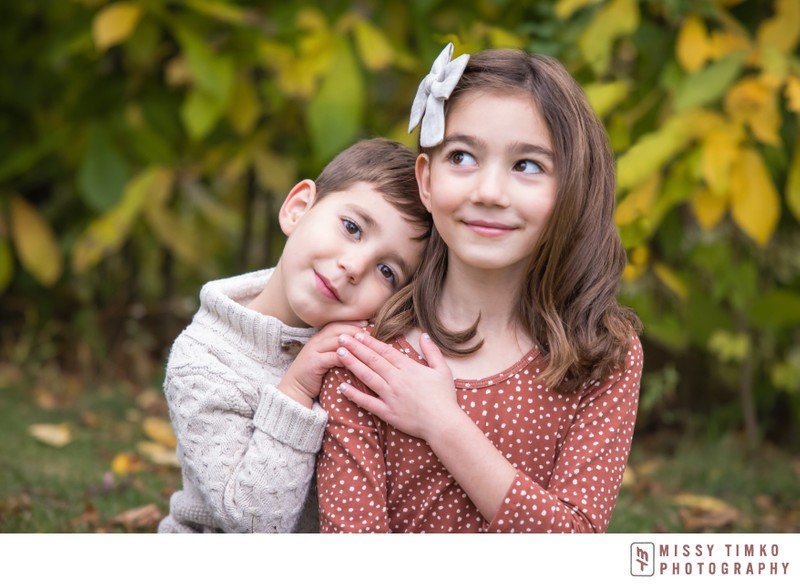 COVID Concerns
Allegheny County was recently placed in the "substantial" range for COVID, and though we are hopeful that this wave will pass by the time of our fall shoots, we can't say for sure. We are aware that some of you may have unvaccinated children or other risk factors or concerns. I like to think that outdoor portraits are one of the few family activities that can be done completely safely during a pandemic!
We will do everything we can to make sure you and your family stay safe and comfortable! We'll start by following all CDC guidelines for vaccinated people at the time of your shoot. Jeremy and I are both fully vaccinated, and all mini sessions in 2021 will take place outdoors. Though you cannot wear a mask during your shoot, we are happy to wear masks at your request. Lastly, we will give you the option to review and order your portraits at a Zoom ordering appointment if you prefer to avoid an in-person meeting at our studio.