Online Photography Classes with Missy Timko
Remember the early days of Instagram?
Striking imagery - Thoughtful sharing - Creativity
We can still share selfies or photos from everyday life, but what if we light them beautifully and use the best possible settings and composition? I want to challenge to you, during this time when a lot of us are in isolation, to improve the look of your personal photography... whether that's with a phone, a DSLR, or both.
I have a lengthy history as a teacher at the secondary and college level, so I have designed this FREE online class series to get you started in the wonderful world of photography.
Day 1: Introduction
Introduction: We are covering everyday photography using any camera - DSLR, phone, or point & shoot. I recommend using Instagram to share your class assignments. Use the hashtag #missytimkoartchallenge.
ASSIGNMENT: Create a Rembrandt-style portrait using your phone. To create this style of portrait, you will need a directional light source. You can use a light (like a lamp or a flashlight), or you can use window light.
I created the following sample portrait in my garage. I opened the door, went toward the back of the garage where the light is directional (pointing only one way) and positioned my daughter so that the light was mostly on one side of her face, with a shape of light on her right cheek. Since I was using natural light, I was not able to get exact positioning as if I were in a studio. That's okay! What we are doing here is trying new light strategies. I used "portrait mode" on my phone to blur out the background - our very messy garage!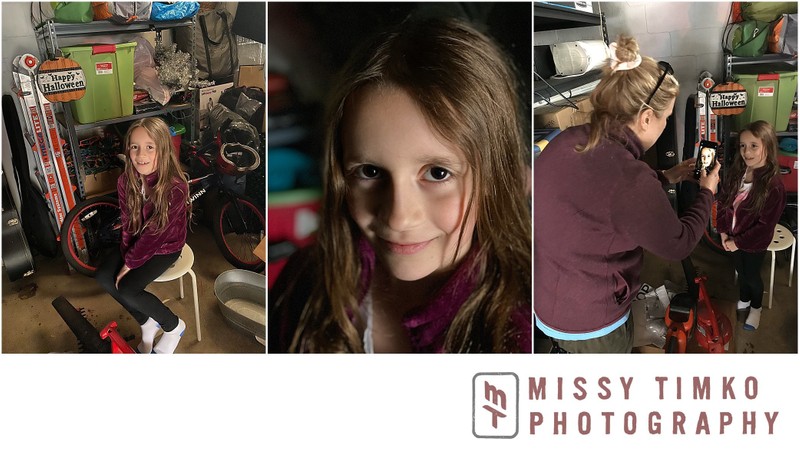 The goal here is to get an interesting portrait of yourself or someone else that uses this distinct lighting style. Post your image on Instagram using the hashtag #missytimkoartchallenge.
Day 2: Phone Photography
In this class we talked about strategies for manual and automatic photography with your phone. We talked about various natural light techniques and how they impact your photography. Lastly, we talked about some apps that you can use to do manual photography using a phone.
Day 3: Kids' Photography Tips & Challenge
At this class, we discussed tips and tricks for composing a photo and using light, and I assigned a challenge.
Kids' Challenge:
Ages 6 & under: Collect a color. Pick a color and photography 5-10 things that are in that color. Think about compositions and lighting. Example: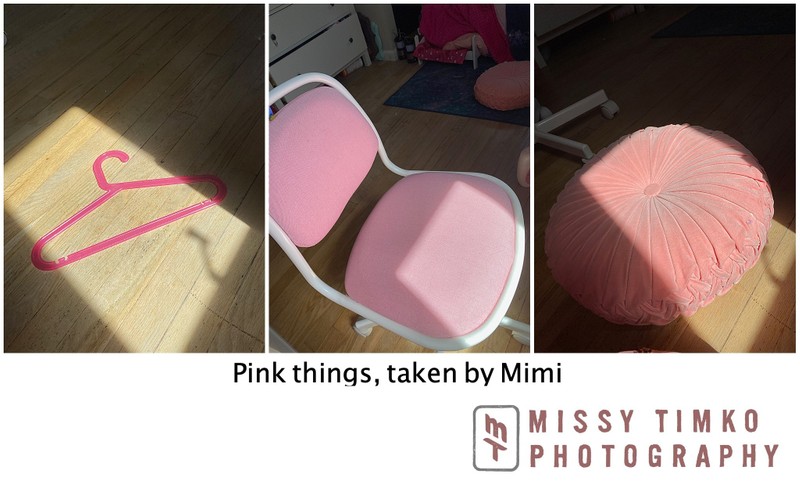 Ages 7-9: Create your name or initials in pictures. Post 3-5 pictures in order to spell out your name or initials. Example: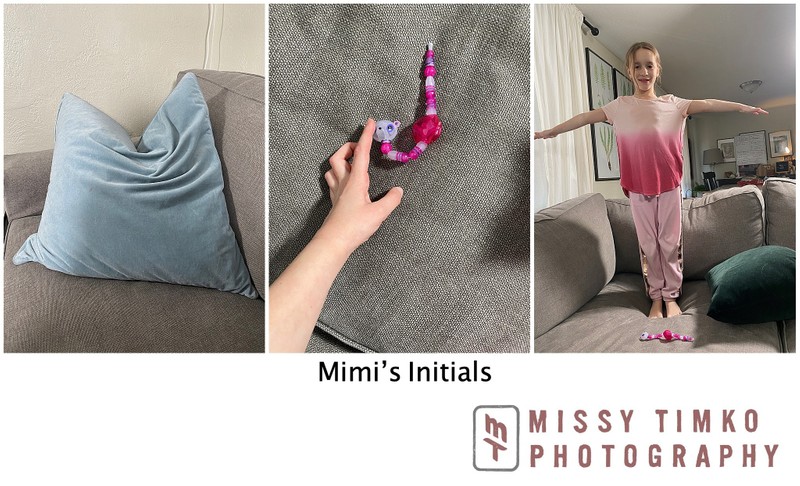 Ages 10+: Create a visual diary. Take 10-15 "day in the life" photos, and pick 3-5 favorites to share. Food, neighborhood walk, selfie in your room. Watch lighting and composition. Bright light & low light. Activity and stillness. Favorite things.
Day 4: DSLR Basics
In this class I did a very brief overview of how DSLR photography works. I went over your three main tools of how to create correct exposure: ISO, Shutter Speed, and Aperture/F-Stop. I discussed the different modes of photography including Auto, Semi-Auto, and Manual
Day 5: Editing with Adobe Lightroom Classic
In this class about editing your photos, we discussed how to work with Adobe Lightroom Classic from start to finish, including importing and exporting as well as the Develop and Library modules.
---
Interested in learning more with me? I offer customized private photography classes in person and via Zoom. I can offer learning on the following topics:
Lighting (natural, flash, and constant)
iPhone cameras and how to use them to their max potential
DSLR basics
Photographing children, babies, and pets
Composition and creativity challenges
Lightroom
Kids classes
GET IN TOUCH TO SCHEDULE YOUR PRIVATE CLASS SERIES WITH ME: