How to Prepare for your Headshot
My primary goals are to create a headshot that flatters you and reflects who you are. Most of the success of your headshot depends on the skill of your photographer, but there are a few things you can do to set us both up for success. The following are tips and advice for your portrait session.
Wardrobe
When selecting your wardrobe options for your headshot, first consider what image you want to project. What would you typically wear to an important meeting? This would probably be a good choice for your headshot. For men, this is usually a suit jacket and tie, and for women, you have a few more options, such as a shirt and jacket, a dress, or a dressy top.
I recommend you choose at least one professional look, and for your second look, choose something slightly more casual or colorful. For men, this might be as simple as taking off your tie, but you might also consider wearing a more casual shirt or sweater. Consider what purposes you will be using this headshot for (LinkedIn, company website, presentations, blog, something else?), and let that guide you.
Women have a number of options for headshot wardrobe. You can choose a shirt with a nice collar, a dress with a jacket, work-specific attire, or something else that represents your style at work. If you are in a profession where your personality is a large component of what you do, choose something more stylish and trendy.
You might choose a color that flatters you, or something more neutral for your portraits. Bring a few options, and I will help you to decide what works best for your work and your skin tone. I recommend against very bright colors because they can reflect back on your skin and alter your natural skin tone.
Necklines have a large impact on how you look in your portrait. A lower neckline can elongate your neck, but you want to make sure your portrait is tasteful. When in doubt, bring it to the studio so we will have many available options.
I recommend against wearing something sleeveless unless you are very athletic or this is part of your work dress.
Choose something that fits you very well. Try everything on in front of a mirror, and move around a little bit--check to see if your clothing creates any unflattering gaps or wrinkles as you move.
Make sure your clothing is steamed or pressed, and try your best to remove any lint or loose threads.
Accessories are important--bring a few options and I can help you to choose at your session.
If you wear glasses, we can try some with and some without. Up to you! I will make sure there is no glare in your lenses.
Hair & Makeup
I highly recommend hiring a makeup artist for women's headshot sessions. This is especially important if you do not usually wear makeup and don't have much experience with things like eyeliner and lashes. I have a list of recommendations that can come to you or do your makeup at my studio. This usually costs between $125-250 and takes about 45 minutes.
If you choose to DIY your makeup, you should be a person with a good amount of skills and experience doing your own makeup. Make sure to wear well-defined eye makeup, and I do recommend false lashes for a polished look (there is a range of lash options, from subtle to dramatic). You will want your foundation to be a great match for your skin tone, and add some color with blush, bronzer, and/or highlighter. Bring your makeup with you for touchups, and consider changing up your lipstick or gloss between looks.
Hair should be done in your usual style. Bring hair spray and a brush for touchups. If you color your hair, make sure to have your roots touched up within 1-2 weeks of your session date. Need hair help? Most makeup artists will add curl or light hairstyling on request, or make an appointment at your favorite salon or blowout bar before your session. Please keep in mind that your headshot session is not the best time to try a completely new look--you will want to love your style and feel like yourself.
Grooming for Men
Men, you should get a haircut about a week before your session. If you wear a beard, make sure it is well-groomed. If you are clean-shaven, shave the day of your session. Bring hair styling products and a brush. Consider wearing translucent powder on your skin if you tend to be shiny.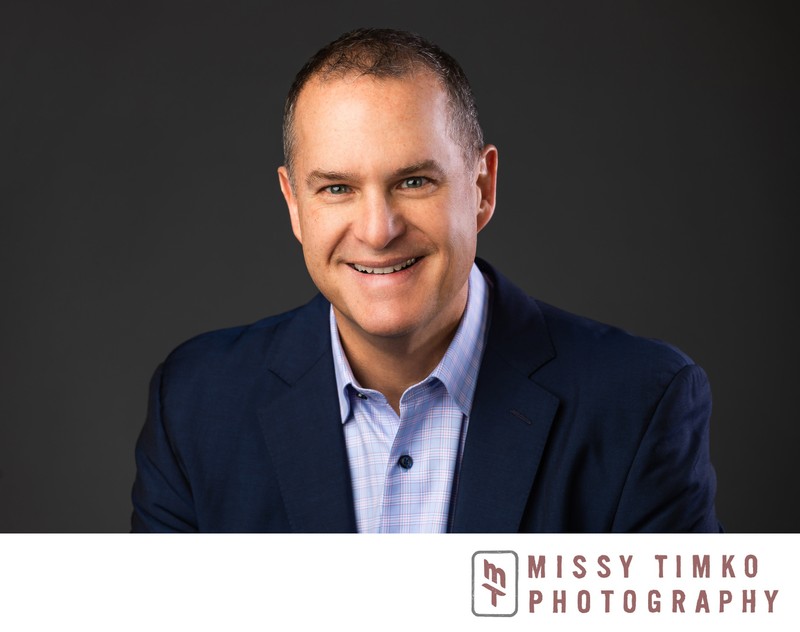 Retouching
I will use soft lighting and flattering poses to bring out the best in you. However, with high-resolution imagery and large computer screens, images generally require some retouching for a high-end look. I use the most advanced retouching techniques for an undetectable, yet polished effect.
Retouching service includes removing blemishes, flakes, flyaways, and other distractions. We can also soften facial wrinkles and enhance your shape upon request. We will discuss retouching at your session so that you can make any special requests at that time, and I will do my best to accommodate you.
Expression & Posing
It is important that you feel relaxed and confident at your session. Practice in the mirror or take a few selfies and examine what you love most about yourself in terms of expression. Think about how you want to come across in these images--what do you want clients and colleagues to know about you? Generally, a relaxed, confident, approachable smile works well, so we will do some smiling portraits for you to review. We will also try some poses where you have a relaxed or serious expression with little or no smile. You will have the option to choose your favorite expressions for your final images.
If there is something you don't like about yourself, tell me! For example, I have had clients who feel insecure about a crooked tooth or about putting on weight. If I know there is something you don't like, I can pay special attention to downplaying that feature or we can address it in retouching.
Angle is another important consideration. Most people have an angle at which they look their best. If you know this angle already, tell me! We will try a number of different angles, poses, and expressions at your session so that we can learn what best flatters you on camera. I will direct you through the entirety of your session, so leave this part to me!
If there is a specific pose or style you like for your headshot, please make sure to share this with me in advance of your session so I can be prepared when you arrive.
I can help!
Some of my clients have a clear idea of what they want to wear and how to handle hair & makeup, but most need a little help! Please feel free to email or text me snapshots of your outfit ideas, or to request a list of hair & makeup artists that I recommend.

412-559-3889

Our clients say their headshot sessions with us were easy, fun, and relaxing.