Newborn Session Planning
The primary goal during your newborn session is to help your baby feel calm & sleepy when we are ready for portraits. To facilitate this goal, please try to get in a nice full feeding about 20-30 minutes, give or take, before our scheduled shoot time. Baby will most likely be ready for pictures at our session time. If baby wakes up hungry during our session, we will stop for a feeding. There are a few other things you can do to help our session go smoothly:
Keep your house 5-10 degrees warmer than usual. This will keep baby calm and comfortable.
Dress yourself in lightweight clothing or layers–we will keep the studio or your home warm for the session and you may get hot!
Please let me know ahead of time if there is anything special you would like to try, and I will let you know if your idea lends itself to my style and skillsets.
Plan for your newborn shoot to take 1.5-2 hours, though on rare occasions we may go a little over two hours.


When to schedule your newborn session
Your shoot date is tentative until baby is born. I prefer to photograph newborn babies when they are about 10-14 days old whenever possible. Please let me know (call, text, or email is fine) as soon as baby is born, and we will try to schedule your shoot within this time frame, if possible.
Shoots with "older" newborns (2 weeks-2 months) are beautiful too, just a little different–we get more eye contact, and babies look a little plumper than they do in the first two weeks. I get calls all the time from moms whose babies are already here and they want to schedule a shoot or babies who have spent time in the NICU and were unable to shoot a session in the first couple weeks. I love these too.
Props (or lack thereof)
I do not tend to use props, but we can include a few small things that are special to you in a few of your portraits–in particular, handmade or heirloom-quality baby blankets are beautiful in a portrait. I will bring some textured wraps and diaper covers, but I encourage you to set aside a few of your own items to make your shoot unique. Please avoid anything that will cover up baby's whole body (i.e., footie pajamas or any other type of bulky clothing), but delicate headbands, newborn or preemie-sized diaper covers, onesies, wraps, and textured blankets are wonderful! I will leave baby's diaper on with a cover or clothing for the entire session.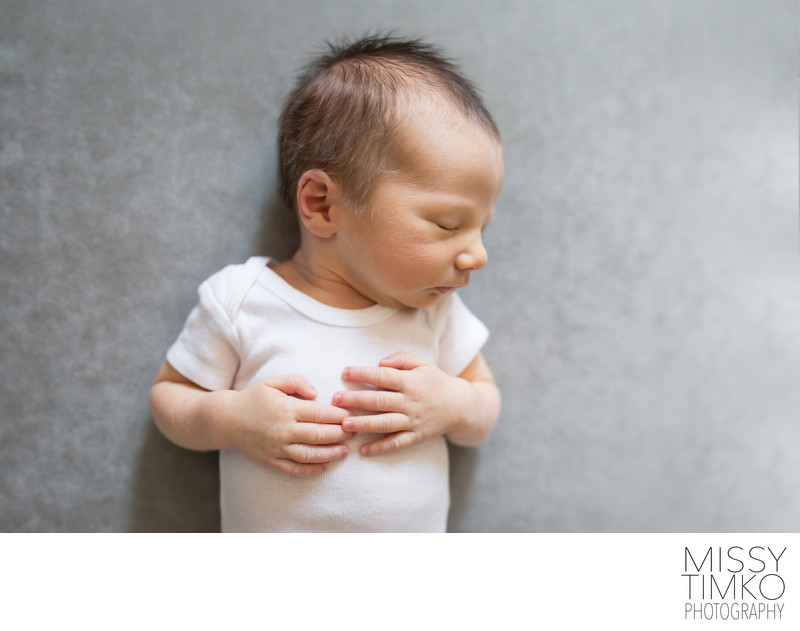 Clothing for baby
You may choose to dress baby in a simple outfit or onesie. Try to choose very tiny newborn clothing! Size 0-3, and even some newborn clothing, can fit too loose for a photo shoot, even on a larger newborn. Baby may be uncovered in a simple diaper cover or blanket for some of your session if you like, but I do like to photograph baby in a onesie (this could be white, grey, pink, or a subtle pattern–just avoid words or logos) with little shorts or bloomers, and for winter babies, an outfit with long sleeves and/or pants is fine for family portraits, just keep your baby's feet uncovered.
Clothing for you
I recommend you dress in light clothing in neutral tones and textures. For an in-home session, we might be shooting on a bed or snuggling you in your baby's rocker, so you will probably be in socks or bare feet most of the time. Please wear something you feel comfortable in–my newborn images (even the studio ones) are of a more "lifestyle" nature and less formal. Get in touch with me for more personal help with styling yourself and your family. I have a wardrobe styling team on call if you need more comprehensive assistance.
Hair & make-up
You might not be up for a visit to a salon for hair & makeup–understandable! We can have a hair & makeup artist come to you! You can sit back and relax with your baby while our hair & makeup artists handle everything for you. If you have a signature style and prefer to do your own makeup, let us know, and we can send out someone just to do your hair.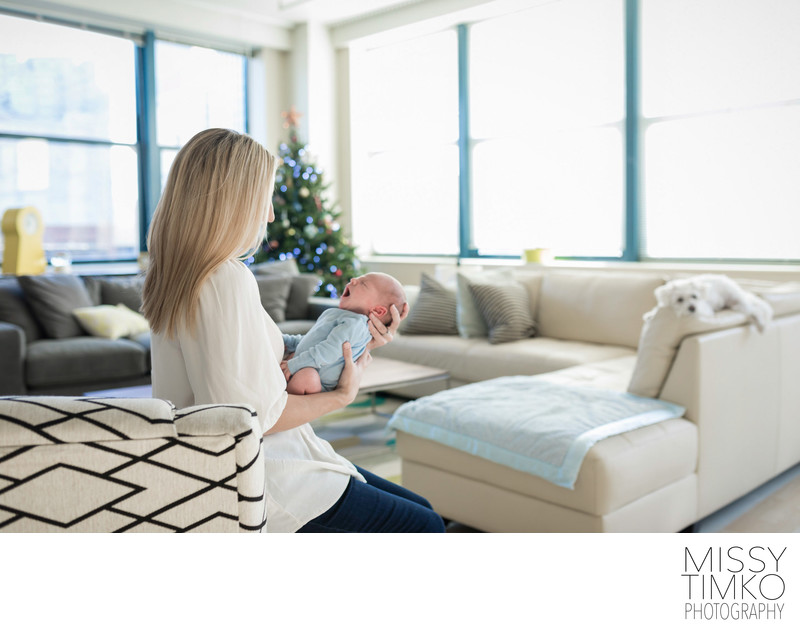 In-home sessions
Your home is the ideal location for your shoot--you will be calm and relaxed and the background will be to your taste. Please keep your house about 5-10 degrees warmer than usual to keep baby sleepy and comfortable with little to no clothing. Try to find a space with minimal clutter and lots of window light that we might use for family portraits (usually a bed or a couch, or in summer months, a porch or other outdoor space). We will usually do family and sibling portraits at the beginning of your session and then portraits of mom & baby for the rest of the time.
Studio sessions
If your home is not an option, we can shoot your session at my Mt. Lebanon studio. Though the focus of a studio session will be on baby, I encourage you, your partner, and toddler or other child(ren) to join baby for a family and/or sibling portrait. Some families choose to focus only on the baby and save the family portraits for another time–that is fine too! Plan about 30-45 minutes for family portraits at the beginning or end of your studio session if you choose to do so. Keep in mind that we will need calm & quiet for your newborn portraits–please bring quiet activities for young children or have a family member take them out for a walk in uptown Mt. Lebanon while we photograph your newborn.
The Studio
Our studio is located in Pittsburgh's Mt. Lebanon neighborhood at 20 Cedar Blvd, Pittsburgh, PA 15228. At the studio, we are all set up for nursing, changing, cuddling, and relaxing.
Questions? Email me!