Portrait Session Pricing & Packages
We offer beautiful portrait products and a pricing structure that allows you to choose your favorite images. We will collect a session fee & deposit at the time of booking, and after your session, we will present your images to you and you will place an order that includes all of the images and products you love!
Custom sessions work well for newborns, families, pets, branding portraits, and seniors. These are usually about 1.5 - 2 hours long and you will have at least 30 images to order from. Your shoot could take place in any location—your home, my studio, or any indoor or outdoor location or combination of locations we come up with! I have favorite locations that I have selected based on lighting, foliage, and architecture, or you can suggest a favorite spot for your portraits.
Little sessions work well for baby milestones, children, and maternity. These are 30-45 minutes long and you will have at least 10 edited images to order from. These take place in my studio.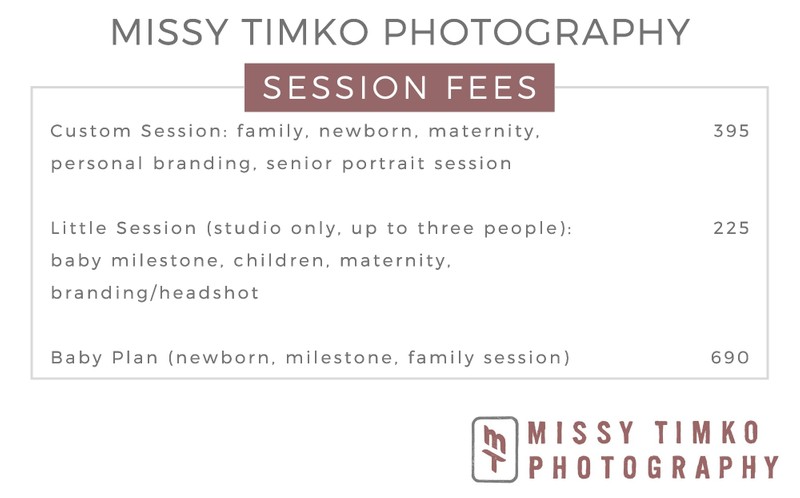 Session fees above do not include printed products or digital image files. We will collect a deposit for your session(s) at the time of booking. This deposit will be applied in full to your portrait order.
Sales tax (7% in Allegheny County) is collected for all products and services sold by photographers in Pennsylvania, including but not limited to digital image files and session fees.

ORDERING PROCESS:
You will be invited to an in-person ordering appointment at Missy's studio about 1-2 weeks following your session. At this appointment, I will guide you through the options for print and display and help you to customize a look that's just right for you and your home. Payment (minus your deposit) is collected at your ordering session, and products are typically delivered in 2-8 weeks.
PORTRAIT ORDER PRICE LIST
Please read through our price list to gain familiarity with price ranges. This is just a sampling of options that may be presented to you at your ordering appointment, depending on your needs and interests.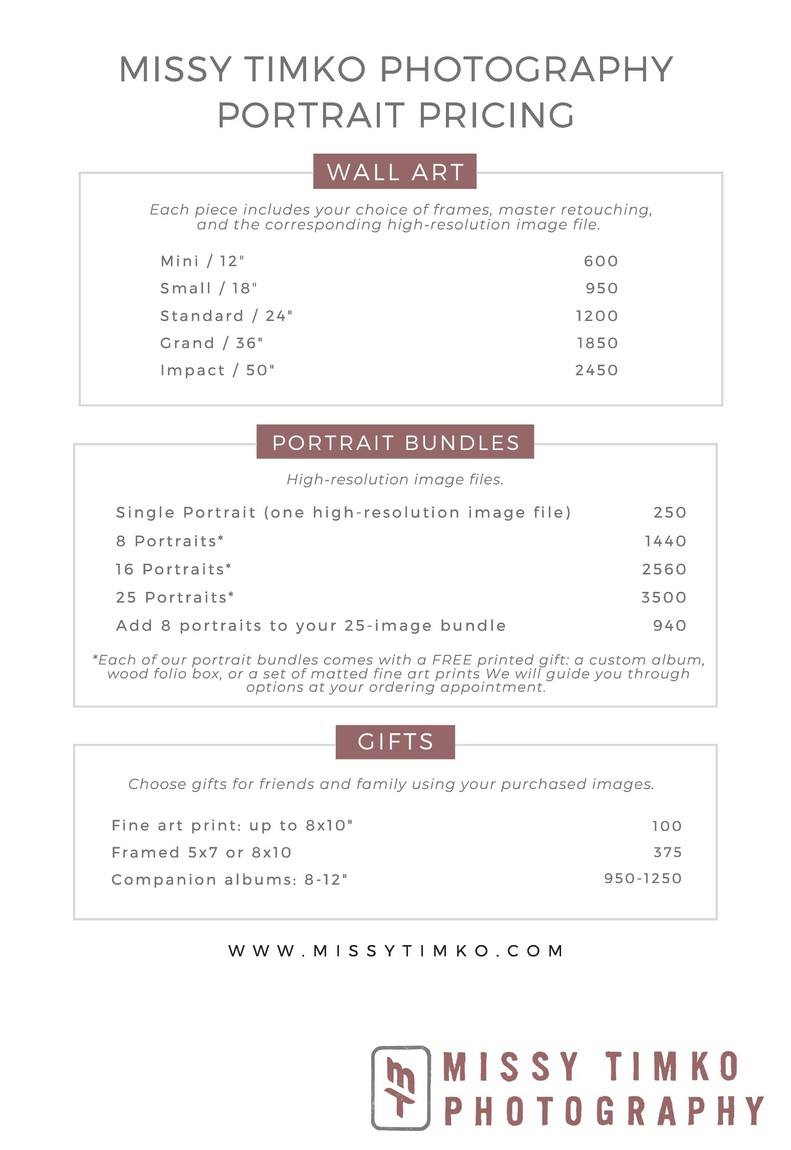 BABY PLAN SESSION PACKAGES
Plan your baby's first year with me and save BIG on a session package. You may choose any combination of baby milestone sessions, family portraits, and one or more maternity shoots. Most clients choose a maternity session around 34 weeks, a newborn session, 1-2 studio milestones between 4-10 months, and a 12-18 month family session. For details, please get in touch!