What to Wear for Family Portraits
Styling and clothing are a very important part of your portrait shoot. I favor a simple and natural look that calls attention to your family's expressions and interactions and will result in timeless images that you will love.
Clothing - Coordinate, but don't match!
Wear something that makes you feel great, that fits you well, and colors that flatter your skin tone. Try to coordinate your group just a little bit. For example… emphasize neutrals, everyone in cooler tones, you get the idea… look at the interior of your house for an idea of what you like. Beyond that, don't feel like your family needs to match. Pinterest has some great examples of coordinating without matching.
Don't be afraid of color and subtle patterns or anything else that defines your family. If you are totally lost, neutral colors and lightly textured fabrics (tweed, denim, lace, etc) are a great place to start.
Color, tone, texture
When selecting outfits for a family group, I recommend you start with mom! Pick something for mom that feels great, fits nicely, and flatters. Choose a style, as in... where are you all going? Formalwear? Day at the beach? Dressy dinner? Once mom's outfit is picked out, plan the rest of the family group around her.
Tones are an important part of coordinating a family group. I recommend choosing a section of the value scale and staying within that value range. For example, put everyone in lighter tones (1-4 on the value scale), everyone in medium (4-7 on the value scale), or everyone in medium to darker tones (6-10 on the value scale). There should be enough variation in tones that there is visual separation (no item of clothing should be exactly the same), but not so much that one person is in black (10) and one is in white (1). You might choose a medium palette and differentiate using a mix of textures, solids, and patterns.
If you want to use a variety of tones from 1-10, that's fine too! However, I recommend against white and black with no middle (unless you are a bride and a groom). Also, make sure it is balanced enough so that no one person stands out more than everyone else... unless that is on purpose!

Color may or may not be an important part of your portrait clothing. Some families prefer a lot of neutral clothing and some prefer more bright colors. This is a personal preference situation! If you are not sure, muted tones like olive, chambray, mustard, dusty pink, etc look great mixed with neutrals like grey, charcoal, and tan. Denim is a neutral if you ask me! :)
Texture is my favorite way to add interest to your family portrait. If you find that you are choosing similar tones and colors for everyone, that is okay as long as they are differentiated with a variety of textures and some patterns here and there. Think cable-knit, lace, tweed.
Accessories are a good idea but keep it simple and subtle. Try to avoid items that will get caught in your hair or a baby's hand or might end up twisted upside-down in your photos. Pay attention to shoes and even the bottoms of shoes, they will show in any sitting portraits.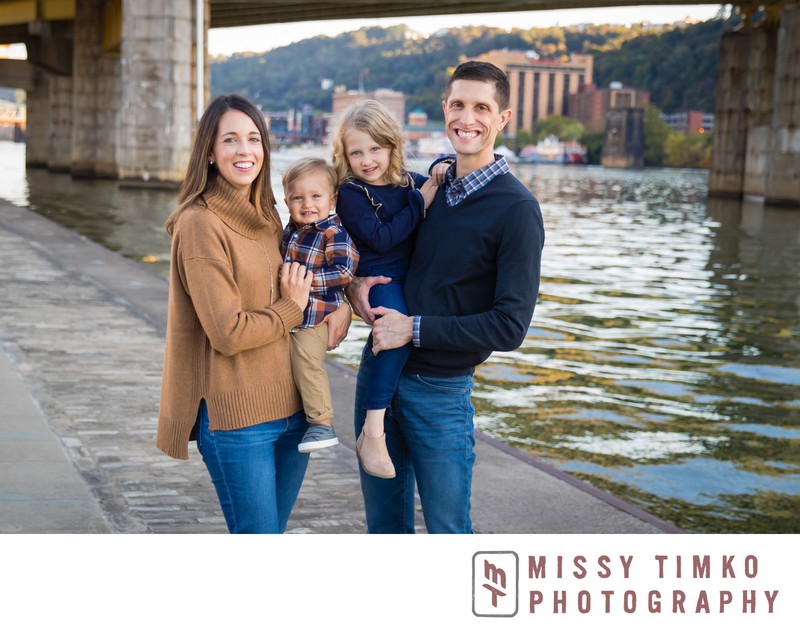 AVOID
Please no words, logos, characters, or cartoons.
Do not put the whole family in the same outfit.
Make sure your clothing is fitted and not too baggy or oversized. This is especially important when you are wearing a too-large shirt under a tailored blazer or sweater—you will end up with wrinkles, lumps, and bumps... it's not a good look. Instead, wear a fitted/slim shirt under your blazer.
Avoid bulky zip-up vests or jackets with high collars—they are designed to keep your neck warm, so they will usually end up covering your face.
I recommend against plain white fabrics like a white button-down, though other lighter tones are fine (white lace, ivory sweaters, or other textured lighter fabrics look great). A white shirt is fine as an accent under a blazer or sweater.
Please also avoid tightly-checked patterns or very fine stripes that may create a moire effect on-camera.
No dirty sneakers!
Personal shoppers are available at many stores, so let them know you are planning a photo shoot and most shops have someone who can help you. My personal favorite is Nordstrom at Ross Park.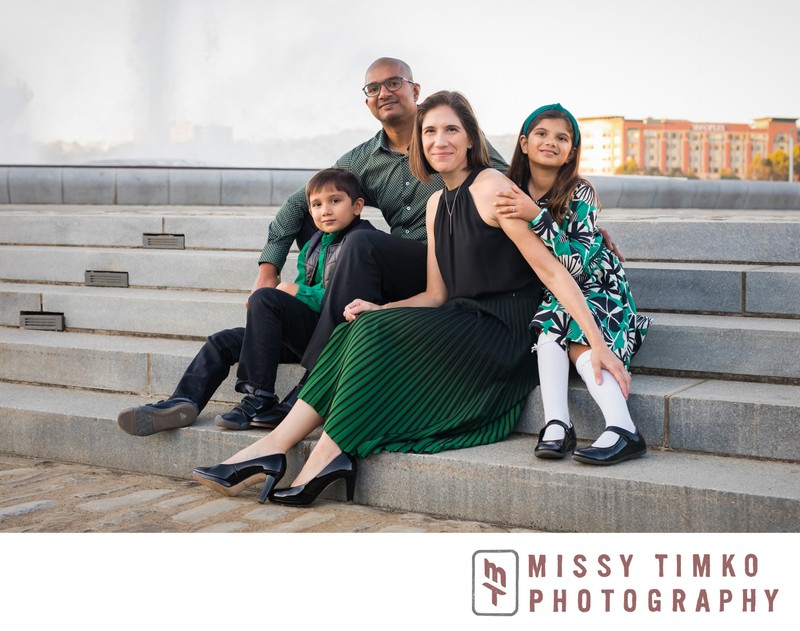 Shops I love for portrait session clothing
Some of the following links are affiliate links, but only for stores I love and use myself!
Women
Nordstrom Always fabulous and perfect. A range of curated items for the whole family. Their stylists will plan your whole family's outfits for you! Information about personal styling is here.
Rent the Runway This is a rental service for women, and they have options from formal to everyday casual. Make sure to read reviews to get a good idea of how each item fits.
JoyFolie Beautiful clothing for women and girls with thoughtful details and unique textures and fabrics.
Babies
Picket Fence Shop local at this adorable baby, kids, and women's boutique in Shadyside.
Maisonette Curated online boutique for babies to teens, boys, and girls.
Pink Chicken This brand has gorgeous options for babies, toddlers, boys, and girls up to age 12.
Bailey's Blossoms This is a super cute shop for baby and toddler girl rompers and sets! Ideal for milestone sessions, but they also have cute things for women and girls.
Lenny Lemons Trendy outfits and sets for baby boys and girls. Great for milestone sessions. Remember to avoid clothing with words or large logos though!
Jamie Kay Beautiful, classic baby outfits for boys and girls from newborn to toddler.
Family
Noralee Gorgeous, classic style girls' dresses from 6m-12y.
Alice & Ames Playful, twirly, and comfortable dresses for girls.
Zara Zara usually releases an occasion line every season for boys and girls from baby to teen. They have beautiful and inexpensive dresses for women and some nice items in interesting fabrics for men as well, but you may have to dig through some trendy polyester to find it!
Remie Girl Simple, twirly girls' dresses, size 2-10.
ASOS Huge range of styles and sizes for women and men, including petite, plus, and tall. Great options for maternity!
H&M This is a good, very inexpensive choice for boys and men. Their boys' clothing tends to be more of a slim fit, which works well for portraits. I loved this store for my son when he was age 2-6 and pants always seemed so wide and short! H&M pants for boys are longer, with those adjustable waist tabs. There is a large location at Ross Park for shopping in person.
Hair & make-up
I highly encourage you to have your hair & makeup done professionally for all session types. You will love your photos so much more if your hair and makeup look amazing! Please ask me about my partnerships with local hair and makeup artists that will come directly to my studio and use my uniquely designed hair & makeup space for your session styling. If you have a relationship with a hair and makeup stylist, give them a call for tips and recommendations.
If you choose to DIY, I advise wearing just a little bit more makeup than you would usually wear in order to photograph well. Men--get a haircut about a week before your session and make sure to groom any facial hair nicely or shave the day of.
Maternity & Newborn
I have specific pages set up for these types of shoots: Maternity here, Newborn here.
Pinterest
Pinterest is a great resource for planning your photo shoot. I have boards set up for all types of shoots, including one specific to outfit planning. Check out my boards here: Missy Timko Pinterest. I encourage you to make your own "mood board" with portraits you like and share it with me, or I can make one for you and your family.
Send me photos!
Once you have started planning your outfits, please send me some snapshots of your family's outfits laid out on a bed. You can email or text your photos to me. This way, I am able to provide specific feedback on getting a cohesive look in your portraits.
Email: missy@missytimko.com
Text message: 412-559-3889